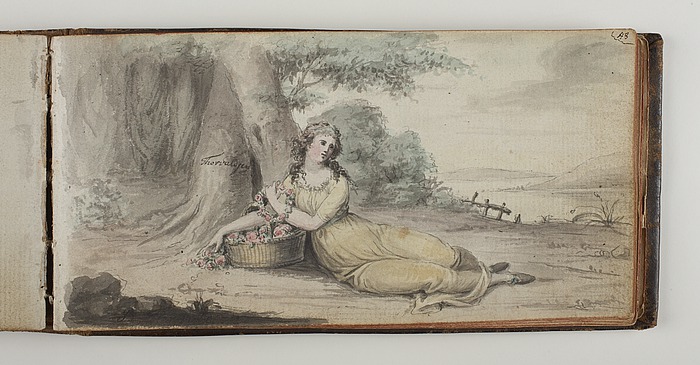 Woman Seated by Two Trees

Watercolour, cloth bound, border printed in gold. 9,9 x 17,9 cm
Inventory number: N292,48
Enlarge photo
Download
The album was a kind of poetry book and guest book that was very common in Thorvaldsen's day. Such albums were often accompanied their owners on journeys so that people met in the course of one's travels could make a small contribution to the book in the form of declarations of friendship, poems or small drawings.
In his friend P.H. Haste's album Thorvaldsen has done a water-colour drawing of a young woman, half seated, half reclining against two intertwining trees while resting her arm on a basket filled with roses. The trees are clearly intended to symbolise the close friendship existing between Thorvaldsen and Haste. During the 1790s, Peder Horrebow Haste was, among other things, responsible for the publication of a theatre periodical, and in 1798 he became a customs inspector in Svendborg. When Thorvaldsen left for Rome in the autumn of 1796, Haste wrote a poem in the sculptor's album, which is also preserved in Thorvaldsens Museum.
Link to the poem in Danish here.