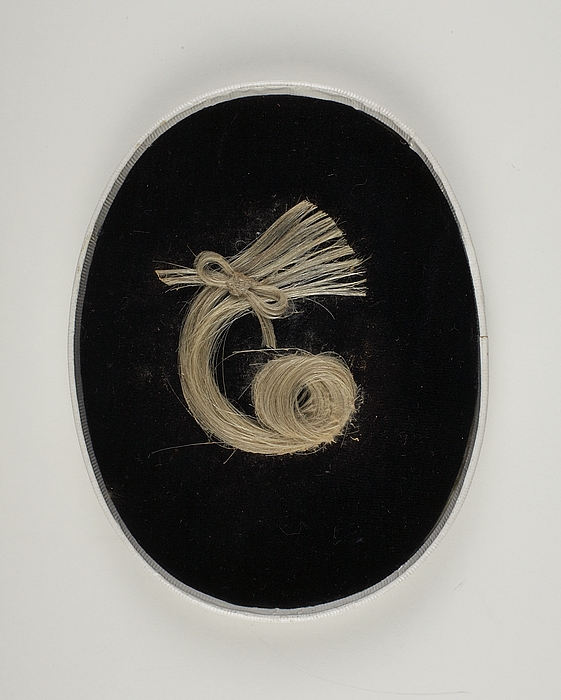 Lock of Thorvaldsen's hair

Hair, velvet. Cardbiard box with moiré paper. 10,5 x 8,2 cm
Inventory number: N226
Enlarge photo
Download
A number of locks of Thorvaldsen's hair are preserved in Thorvaldsens Museum, often set in beautiful miniature frames. The fashion for collecting Thorvaldsen's hair emerged during the final years of his life, from 1838 to 1844, while the sculptor was living in Copenhagen. Both Thorvaldsen's valet Carl Frederik Wilckens and his friend and mentor Baroness Christine Stampe were keen collectors when Thorvaldsen had his hair cut, and even when Thorvaldsen lay dead, someone is said to have had the nerve to cut off a lock of his hair.
Wilckens was probably the driving force behind the spread of the hair cult. He often had the locks of hair accompanied by the world-famous artist's visiting card along with the words "Conferentsraad Thorvaldsen" – apparently as a kind of unofficial guarantee of the relic.
The lock shown was donated to Thorvaldsens Museum by the heirs of Prince Valdemar. Prins Valdemar (1858-1939), who was the son of King Christian 9, had been given the lock by Duchess Thyra of Cumberland. It is not known how she had come by it.