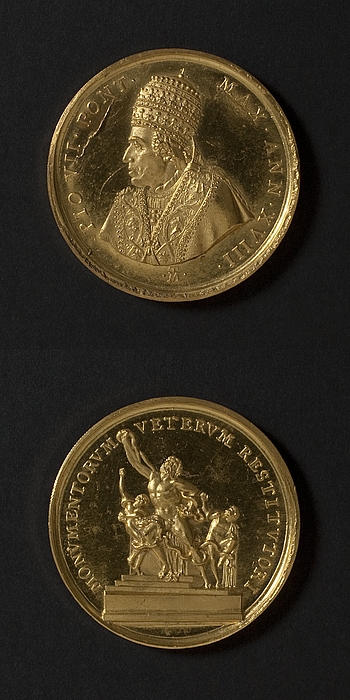 Tommaso Mercandetti
: 02.12.1758
: 11.05.1821
: italiensk
Medal obverse: Pius 7. Medal reverse: The Laokoon-group, 1818
The Laokoon-group after the antique sculpture
Gold. 42 mm diameter
Inventory number: F103
Works, relating to this work: The Laokoon-group , 1st cent. BC, marble, Museo Pio-Clementino Vatican Museum, Inv.no. 1059, 1064, 1067
Enlarge photo
Download
Obverse: Portrait of Pope Pius 7.
Reverse: The Laocoon Group.
Tommaso Mercandetti was a medallist and die cutter, who throughout his life lived in Rome and worked for the Papal Mint. This medal was made in homage to Pope Pius 7. The reverse shows a reproduction of one of the most famous of ancient sculptural groups – the Laocoon Group – which was discovered in 1506 and immediately exhibited in the Belvedere Courtyard in the Vatican. The courtyard later became the centre of the Vatican Museum. The sculpture was stolen by Napoleon's troops when Rome was taken at the beginning of the 19th century and it was subsequently transferred to Paris. However, during the papacy of Pius 7 the sculpture was returned to its old place in the museum, and it is this event the medal is intended to commemorate. So for that reason it bears the inscription on its reverse: MONUMENTORUM VETERUM RESTITUTORI, that is to say "in honour of him who saved the old monuments" – i.e. Pius 7, who is portrayed on the obverse of the medal. Exhibited in Gallery 38 of the Museum.