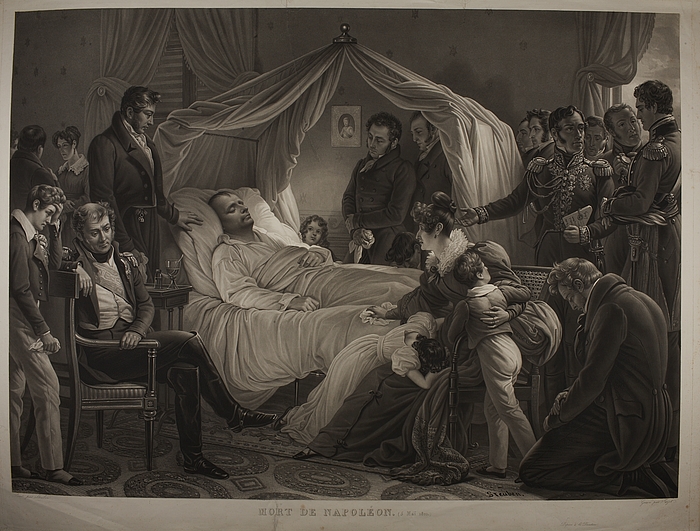 Jean-Pierre-Marie Jazet
: Jean Pierre Marie Jazet
: 1788
: 1871
: fransk
The Death of Napoleon in St. Helena, c. 1843
After painting by Carl von Steuben
Aquatint. 790 x 1026 mm
Inventory number: E633
Works, relating to this work: Carl von Steuben, The Death of Napoleon in St. Helena, 1828, oil on canvas, Napoleonmuseum Thurgau, Schloss Arenberg, Switzerland (No inv.no.)
Enlarge photo
Download
"The French army." Such were the last words of the Emperor Napoleon Bonaparte (1769-1821) according to his senior valet, Louis Joseph Narcisse Marchand (1791-1876). In this aquatint by Jean-Pierre-Marie Jazet, illustrating the night of Napoleon's death between 4 and 5 May 1821, Marchand can be seen standing behind the bed, at the centre of the picture.
One day, Thorvaldsen met the book dealer Carl Andreas Reitzel (1789-1853) in the street in Copenhagen. The bookshop had just received an engraving of Napoleon on his deathbed. Reitzel invited Thorvaldsen to pop into the shop to have a look at this work. Otto W. Wroblewski, who worked in Reitzel's bookshop from 1843, recalled this in his memoirs. In all probability the work in question was this aquatint which Jazet had made after Carl von Steuben's painting.
The model for the aquatint is the painting made by Carl von Steuben (1788-1856), which since 1978 has been in the Napoleon Museum Thurgau in the Schloss Arenberg. From 1817, the castle was the home of Napoleon's exiled stepdaughter Hortense (1783-1837), the wife of Napoleon's brother Louis Bonaparte (1778-1846).