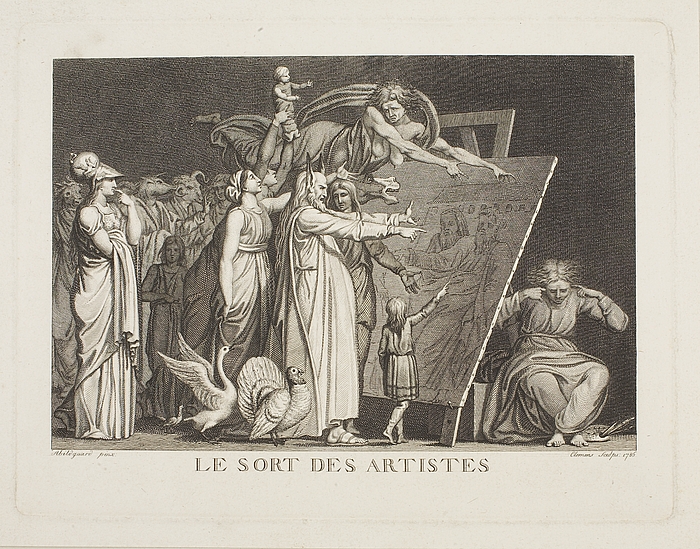 The Conditions of the Artists , 1786
After Nicolai Abildgaard
Engraving. 174 x 230 mm
Inventory number: E440
Enlarge photo
Download
The artist is sitting with his hands to his ears behind the large painting. In the left of the picture we see the protector of art, the Roman goddess Minerva, wearing a helmet. She is watching thoughtfully and silently while a number of art critics are pointing their fingers and pouring scorn on the painting. This is a satirical engraving that J.F. Clemens has made after a preparatory work by Nicolai Abildgaard (1743-1809). One of the critics has been given the head of an ass. And in the background stand a number of figures with sheep's' heads – this seems to be Nicolai Abildgaard's way of characterising the public.
Clemens must be imagined to have shared Abildgaard's view. Abildgaard was a learned man. He was a professor in the Royal Academy of Fine Art in Copenhagen, in addition to which he owned a collection of books big enough to be considered a library. The French text to the print, "Le sort des artistes" – the conditions of the artists – leaves one in no doubt that the lack of knowledge on the part of the public was a source of distress to Abildgaard.
Until Thorvaldsen left Copenhagen for Rome in 1796, Abildgaard was his most important contact in the Academy of Fine Art in Copenhagen.