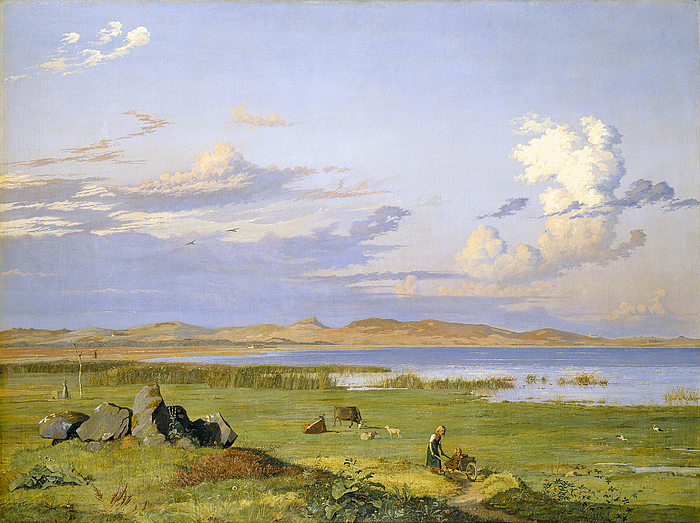 Landscape at Arresø, looking towards the sand-dunes at Tisvilde, 1838

Oil on canvas. 94,2 x 125,5 cm
Inventory number: B253
Enlarge photo
In 1836, Lundbye's father had been appointed commander of what was known as the Army Rocket Corps. His official residence lay between the Arresø valley and the village of Vinderød just outside Frederiksværk. When painting this picture, Lundbye has stood on the stretch of meadowland below Vinderød and looked north. The shifting sand hills in the distance are today covered with trees and are known as Tisvilde Hegn.
The picture is a hymn to the open Danish landscape that contains many of the components so beloved of the Romantics: natural beauty, the past (represented by the piles of stones in the foreground, which are undoubtedly the remains of an ancient burial mound), peasants, children, animals and beautiful clouds.
The painting was well received by the critics and must be counted the work with which Lundbye made his breakthrough. It was bought by the Copenhagen Art Society, where Thorvaldsen was fortunate enough to win it.