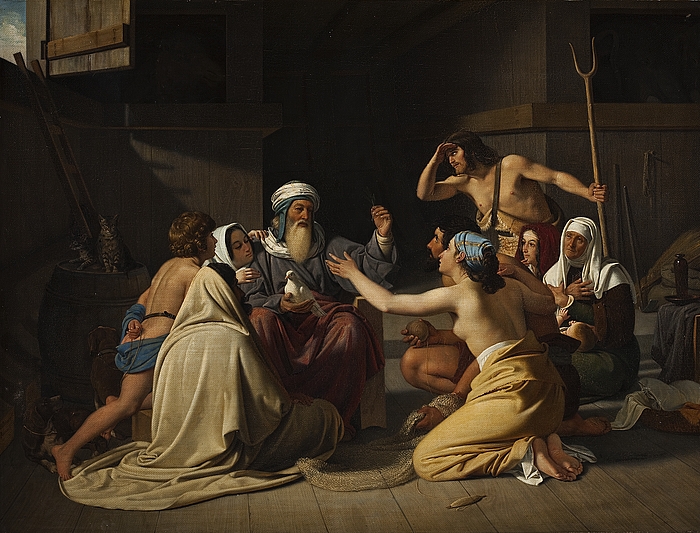 Noah and his family in the Ark, 1835

Oil on canvas. 69,3 x 90,2 cm
Inventory number: B198
Enlarge photo
Download
Search the work in The Archives
The painting represents the 600-year-old Noah together with his family: his wife, their sons Ham, Shem and Japheth, their daughters-in-law and a grandson. Of all the animals that God had commanded him to gather, we here see the dogs, the cats and, in stalls, the camels and elephants. After forty days of flood, the Ark has now gone aground and the dove that Noah had dispatched through the shutter at the top left has returned with a fresh olive leaf – the sign that the Flood is finally receding.
Blunck was born in Holstein and had trained under Eckersberg in the Academy in Copenhagen. In 1827 he was awarded the major gold medal and went to Dresden, Munich and Rome with the best recommendations from Professor Lund, who had himself been inspired by the Nazarenes in Rome. The art of the Nazarene Overbeck also made a great impression on Blunck, whose focus in Noah in the Ark on simple, pious family life is also completely in keeping with the ideal of the German Nazarenes. In 1844, Blunck left Denmark, settling first in Vienna and then in Hamburg, where he died.
Thorvaldsen commissioned two paintings from Blunck: Noah in the Ark and Danish Artists in the Osteria la Gensola in Trastevere.