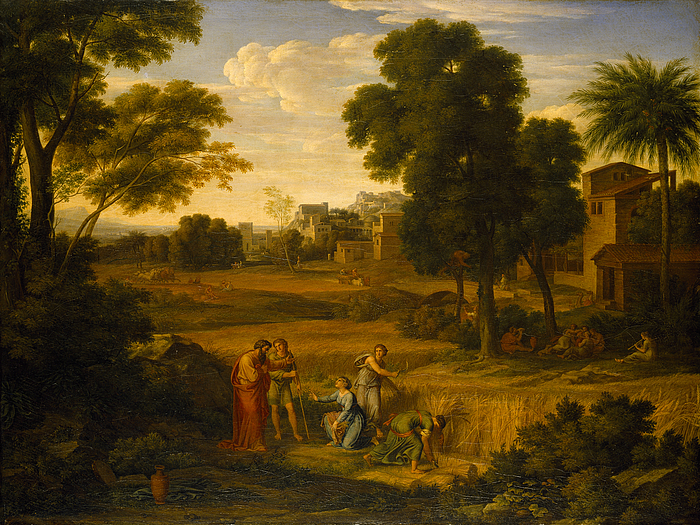 Christian Gottlieb Schick
Joseph Anton Koch
Heroic landscape with Ruth and Boas, 1803-1804

Oil on canvas. 87,6 x 116,4 cm
Inventory number: B158
Enlarge photo
The scene is from the Book of Ruth in the Old Testament and shows Ruth gleaning, as was then the right of strangers and poor folk. The tall man dressed in red is Boas, the owner of the field. He owns everything, and she has nothing but the few ears of corn she has gathered in her lap. But Ruth and Boas marry and symbolise the fertility that makes her the first ancestress of the house of David.
After being apprenticed in Germany, Schick studied under J.L. David in Paris and proceeded to Rome in 1802. When he painted this picture, he was living close to the painter Koch, and according to witnesses at the time, Koch was responsible for certain parts of the landscape, while the totality and the figures are the work of Schick himself.
The model for the painting is the Summer with Ruth and Boas from the 1660s by Poussin, now in the Louvre, and Koch might have known this work – either first hand or from prints.