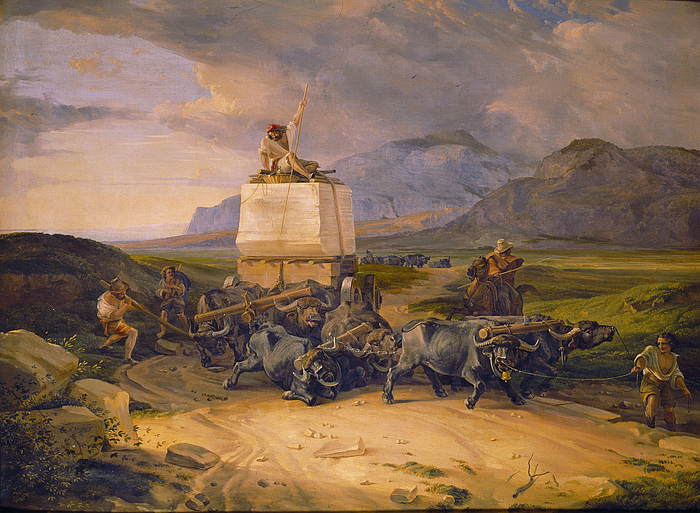 Buffaloes dragging a block of marble, 1831-1844
Replica of Friedrich Nerly's painting from 1831
Oil on canvas. 74,5 x 99,4 cm
Inventory number: B133
Works, relating to this work: Friedrich Nerly, Marbletransport, 1831, Staatliches Museum, Schwerin, Germany
Enlarge photo
Download
Search the work in The Archives
The following inscription has been hewn into the block: "XXIII Thorwaldsen Roma". With this Roman numeral, Nerly has possibly intended to refer to the year, 1823, when Thorvaldsen was given the greatest commission of his life, the sepulchral monument to Pius VII. So it is tempting to imagine that the block of marble was intended for this work. The picture marks a stage in the marble's long, difficult journey from the quarry to St Peter's – from natural shape to artistic form.
Nerly was born at Erfurt and lived in Rome from 1828. The first version of the motif from 1831 – the year in which the papal monument was unveiled – led to something of a breakthrough for Nerly, and he later produced several replicas. Thorvaldsen's version is a slightly smaller replica.
Nerly set out to return to his native Germany in 1835. However, he laid his route through Venice and became so fascinated by the city that he remained there for the rest of his life.