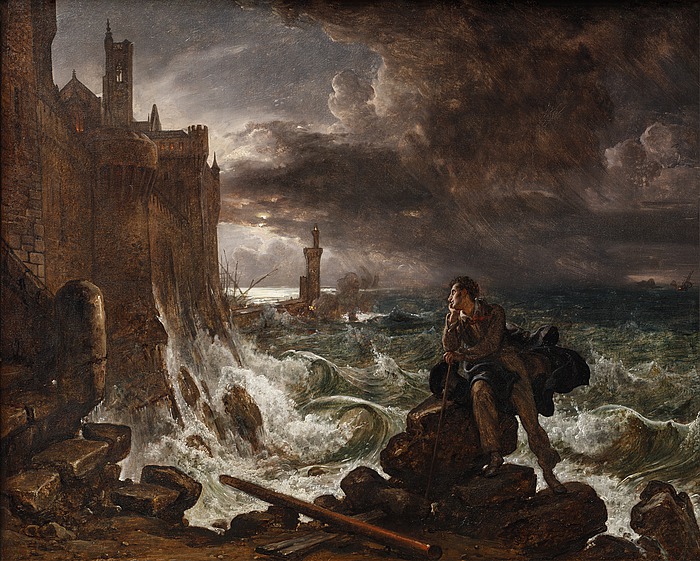 Night piece, from the closing scene of "René" by Chateaubriand

Oil on canvas. 62,8 x 73,8 cm
Inventory number: B111
Enlarge photo
Download
The poet François-René Chateaubriand lived from 1768 to 1848 and became one of the seminal figures of French Romanticism. His René, which appeared in 1802, can be seen as a French counterpart to Goethe's Die Leiden des Jungen Werther. The title figure René is a passionate melancholic who feels rootless and alien everywhere. He is closely attached only to one person in the world, his sister Amélie. But their love is an incestuous passion which they each try to resist. René considers taking his own life. Amélie enters a convent, and the final scene is played out by the rocky coast, above which rise the convent walls. René has now finally decided to go to America and, while waiting for a passage, walks restlessly around outside the convent. During his last night he writes a sorrowful letter to his sister, as the wind suddenly rises:
"I listened, and in the midst of the storm I could distinguish the thunder of the distress signals and the sound of the passing bell in the convent. I hastened down to the beach, where all was deserted, and where only the roar of the waves was to be heard. I sat down on a boulder. On one side, as far as the eye could reach, all that was to be seen were foaming waves; on the other, the dark walls of the convent towered towards heaven. A pale light shone from the barred window. Was it you, my beloved Amélie, kneeling at the foot of the crucifix and praying to the God of the storm to protect your unfortunate brother? The tempest at sea, the peace in your lonely dwelling; folk crushed against the rocks at the foot of your place of refuge, which nothing can disturb; the infinite on the other side of the convent walls; the swinging lanterns on the ships, the immovable lamp in the convent; the uncertain fates of the sailors, the nun who after a single day knows all the coming days in her life … and on the other side a soul like yours, Amélie, as stormy as the sea, a soul that must suffer a more dreadful shipwreck than any sailor."
It is this agonizing farewell scene that Catel portrays in his painting.
Catel arrived in Rome in 1811 after studying in Paris, married an Italian woman in 1814 and lived there for the rest of his life.